An introduction to some "eco-friendly" brands in the bike industry that have been making efforts towards sustainability. Let's celebrate some progress and inspire other brands to do the same! We hope that this can also act as a guide to help make more environmentally conscious decisions when buying bike products in the future.
The Bike Industry 
With Earth Day around the corner, it is time to be overwhelmed as an individual with ways that "you" can save the planet; but let's be honest, it's time for big companies to start taking action and responsibility in the bike industry. This is why the article is titled "Eco-Friendly Bike Brands In 2022" and not "14 easy ways you can save the planet by noon today - #1 reuse your tire sealant".
Sustainability in the bike industry has always been a bit confusing. On one hand, consumerism is bad for the environment, and on the other, cycling is one of the most efficient and sustainable forms of local transport. So, buying products for cycling is?
Well, we want to highlight some of our favourite brands when it comes to being sustainable in the bike industry, and let you come to your own conclusions in the article bellow.
Axiom
The first brand we want to share with you is Axiom. Axiom has always been known for their great warranties, high quality racks, bags, and fenders. The first part of Axiom that we want to highlight is their series of bags, that use a fabric called "OCEANWEAVE®". This fabric removes plastic from the ocean by using recycled fishing nets; we've all seen Seaspiracy (which should have been call ConspiraSEA). In their commitment to sustainability Axiom has said "they are the only brand in the world to make cycling bags out of recycled fishing nets". The second part of Axiom that we want to bring to light is their FLASCHEGUARD fenders. These fenders are made from end of life polycarbonate water cooler bottles! As Axiom says "for every tonne of FLASCHEGUARD material produced, almost a tonne of CO2 emissions is prevented and end-of-life plastic is kept out of landfills or incinerators".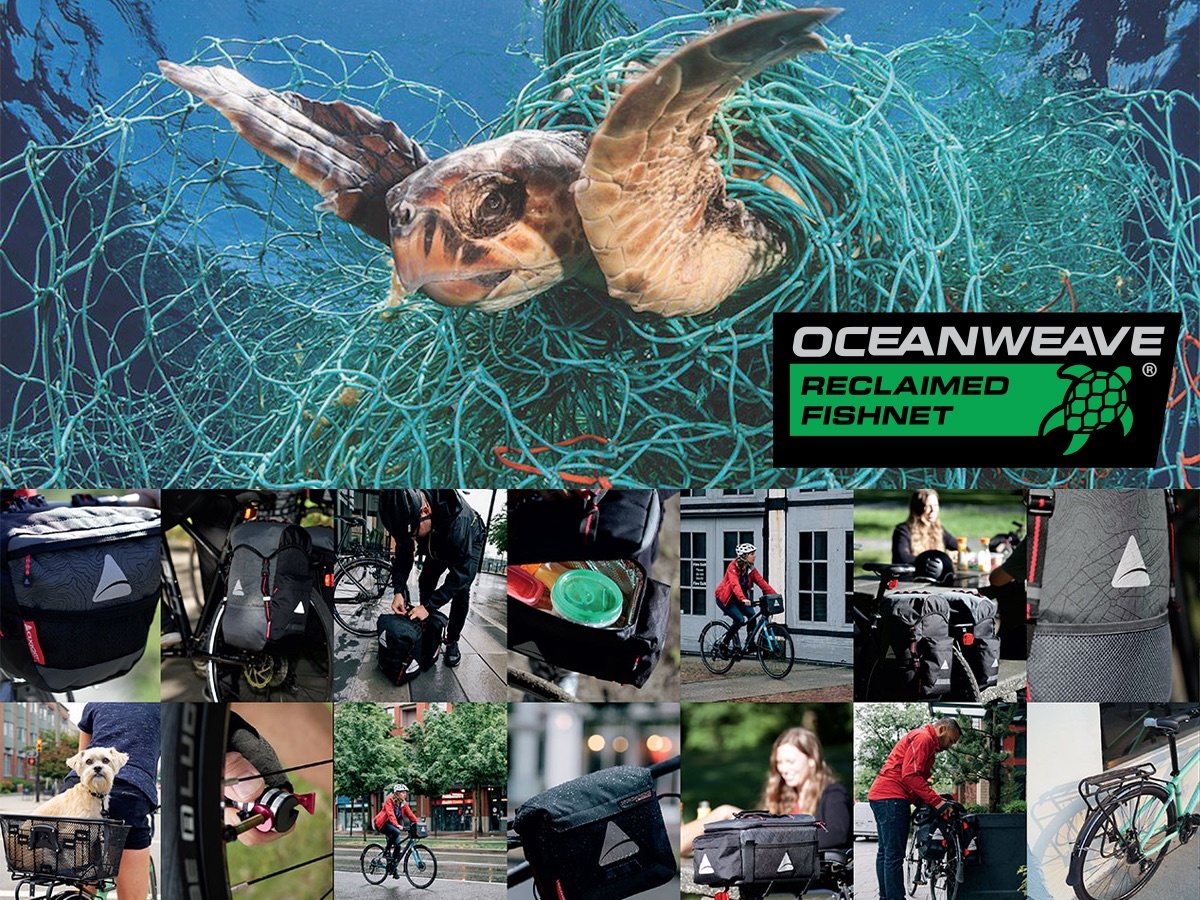 (For image credit and more information: Axiom)
Leatt
Leatt has made strides above many brands in the cycling industry in two ways. Firstly, on a side that most customers do not see; Leatt has introduced biodegradable, plastic-free packaging with soy inks to replace all plastic packaging for 2022. The second way is through their NaturalL range of bike apparel. Their NaturalL line is created with two eco-friendly materials: Tencel™ produced from tree pulp and Yarn produced from recycled coffee grounds. Both materials are better for the environment and have unique properties that make them superior to traditional materials.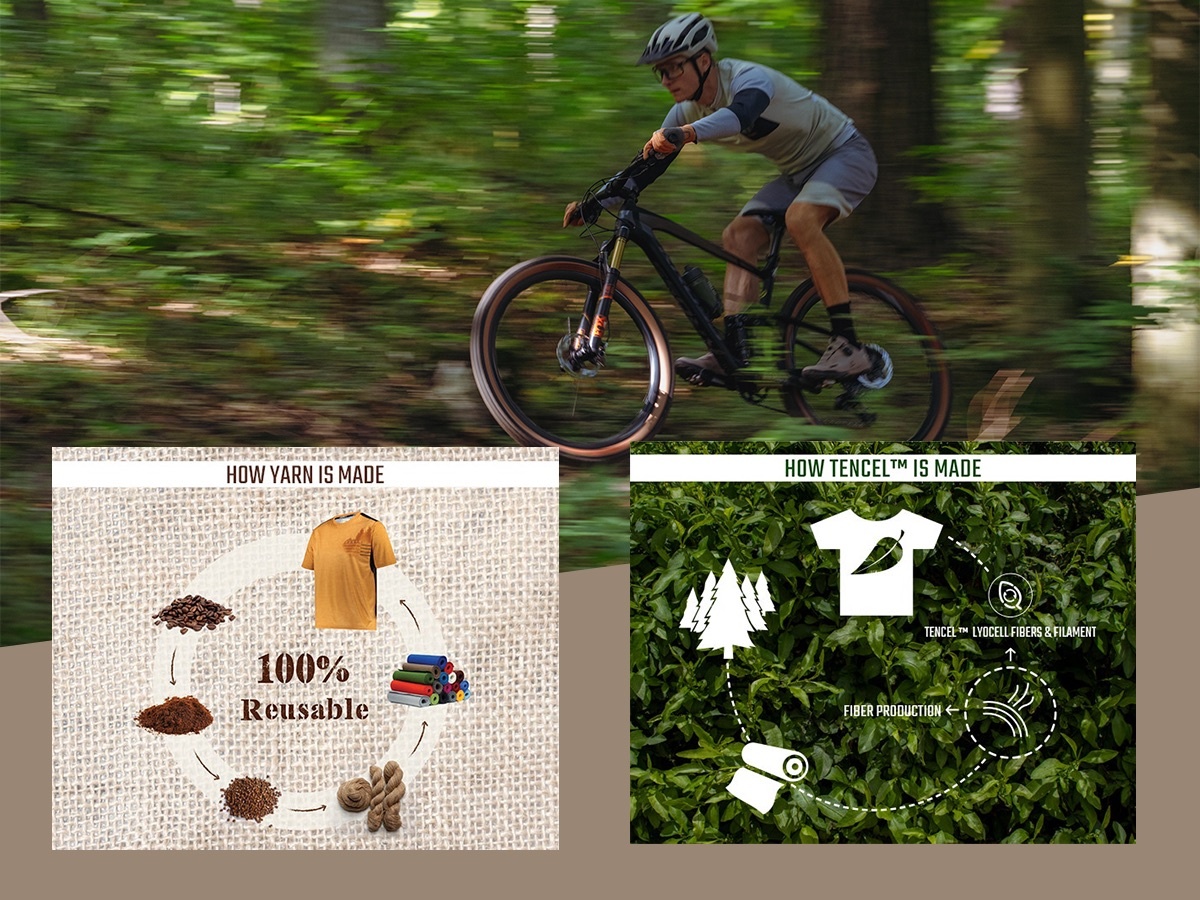 (For image credit and more information: Leatt)
Muc-Off
When it comes to cleaning products it is hard to get away for environmentally destructive chemicals and have products that do the same job if not better. Well, our third shoutout is Muc-Off who have been able to make some amazing eco-conscious cleaning products. They have 3 products that are staples to us and many avid mountain bikers: their Bio Drivetrain Cleaner that is biodegradable, their Nano Cleaner that is also biodegradable and with powder refills now available, and their lubes that are PTFE free with many also being biodegradable where possible.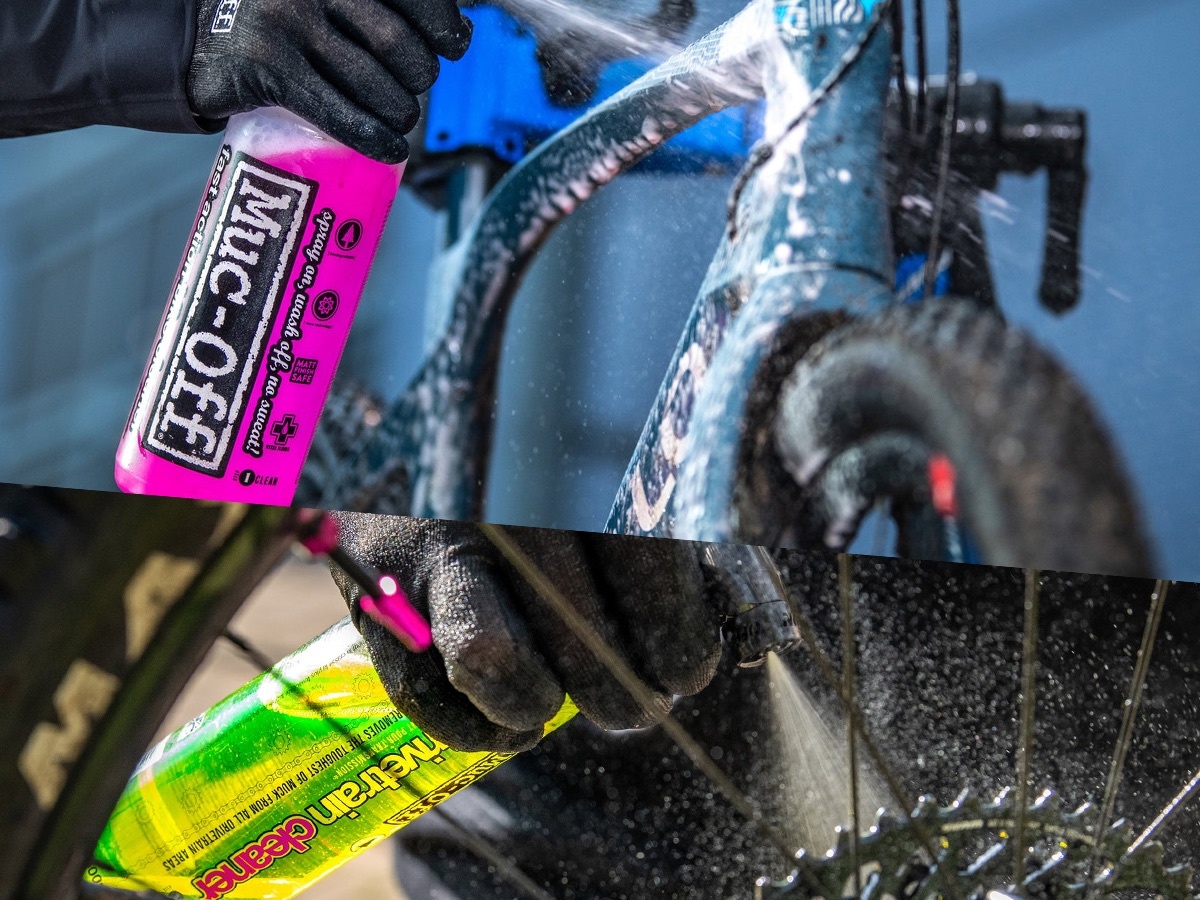 (For image credit and more information: Muc-Off)
In the end these companies still have lots of work to do to prove to us that they really are in it to make a difference; however, moving forward as we continue to work to support brands like the ones above, it is important to remember that sometimes the best practices for the environment are to support brands that make products that are built to last and built to be fixed, not just the ones with clever marketing.
Anyways, these are just some thoughts from a guy at a bike shop introducing you to some bike brands that he thinks are interesting.
Leave us your thoughts bellow. Do these brands deserve to be on this list? Which of the 3 is your favourite? What are some other "eco-friendly" cycling brands that you think we should carry in the future?