We all know the saying "kids grow up too fast". This statement is exponentially true when it comes to kids' bikes. Unfortunately there is no one size fits all and making sure your kid is on the proper size bike is extremely important for development and progression. We will talk about how to know when your kid has outgrown their bike; how to size them for their next bike; things to look for when shopping; and lots more.
How to size your kid for their new bike
Buying a kid's bike is tricky, and can feel like a goldilocks situation, some are too big, some are too small. Hopefully the following will be able to help you find the bike that is "just right" for your kid. 
It can feel like it was just yesterday you were at your local bike shop buying them their first tiny bike. Unfortunately they do not last forever and one of the largest things holding kids back when it comes to cycling is improper sizing.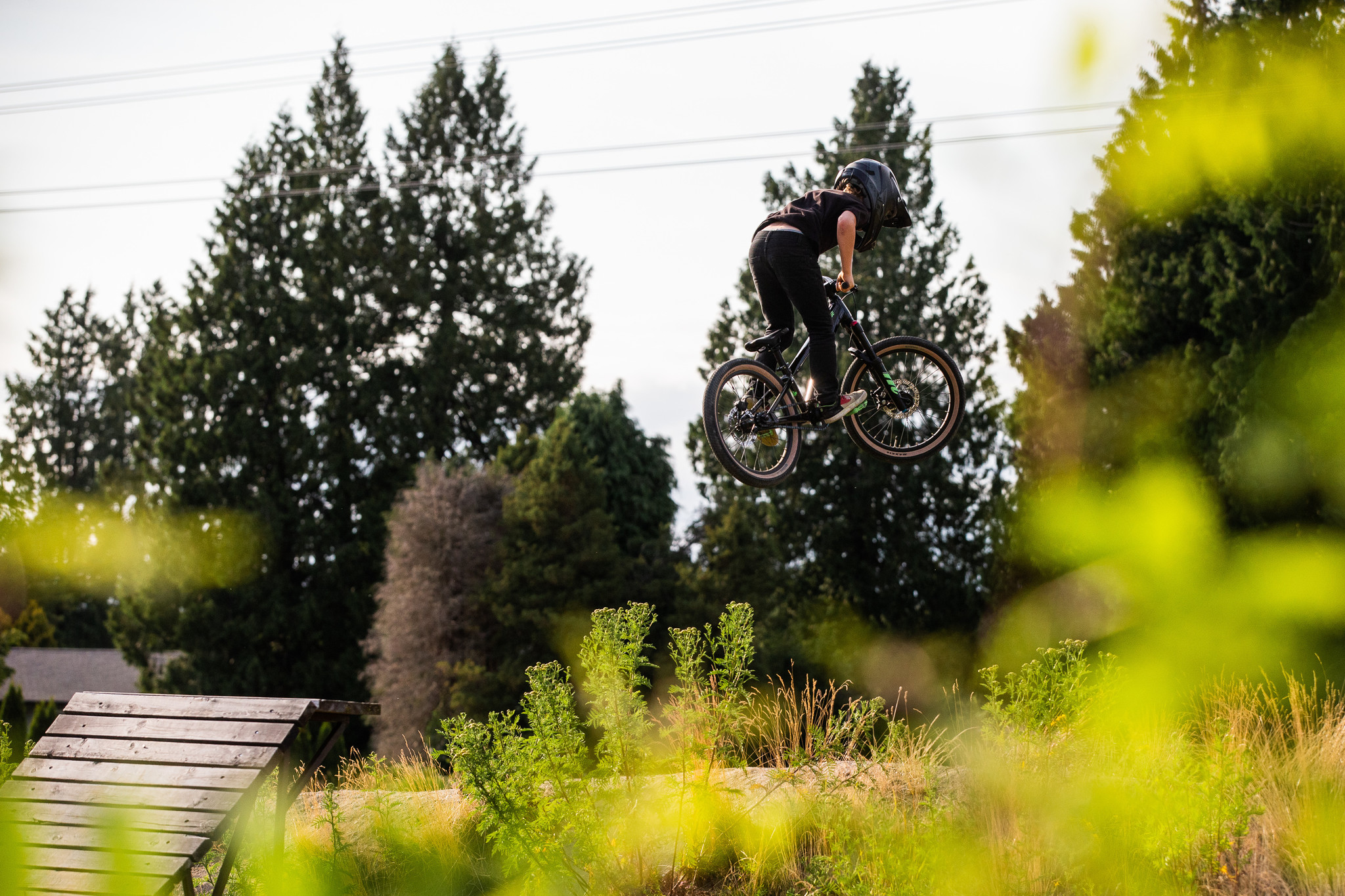 Before we get into bike fitting, we have to do a plug for our amazing kids bike program. It can be expensive to keep your kids on good quality properly fitting bikes. At WestShore Bikes we get that, so we have created a buy back program that gives you up to 50% towards the next size up when you purchase your kids' bikes through us. Additionally, this means we are able to offer high quality used kids' bikes for great prices (we offer the buy back on used bikes as well). 
How does kids bike sizing work?
Kids' bike sizing is very different from how adult bikes are sized, so don't be alarmed if it seems strange. Bike manufacturers principally use wheel size to size their bikes. For example a 16" wheel bike will be the size up from a 14" wheel bike. Bikes are sold in the following increments: 10" (runbike), 12" (run and pedal bike), 14", 16", 20", 24", and sometimes 26" (often 26" can be skipped for and adult XXS frame). After that then your kids will have graduated into an XXS adult size bike with 27.5" wheels. 

Has your kid outgrown their bike?
Your child needs to size up to a larger ride when they max out the height of the seat-post or if they become too cramped in the cockpit / hunched over while pedalling. Often knee height can be an indicator that the bike is too small. If they are unable to get proper extension when peddling it can make it difficult on their knees, and a lot harder to balance.  
Factors in kid's bike fitting
Some manufacturers will give an age range for each size, however this is not ideal. What you want is a size chart based on height and/or inseam.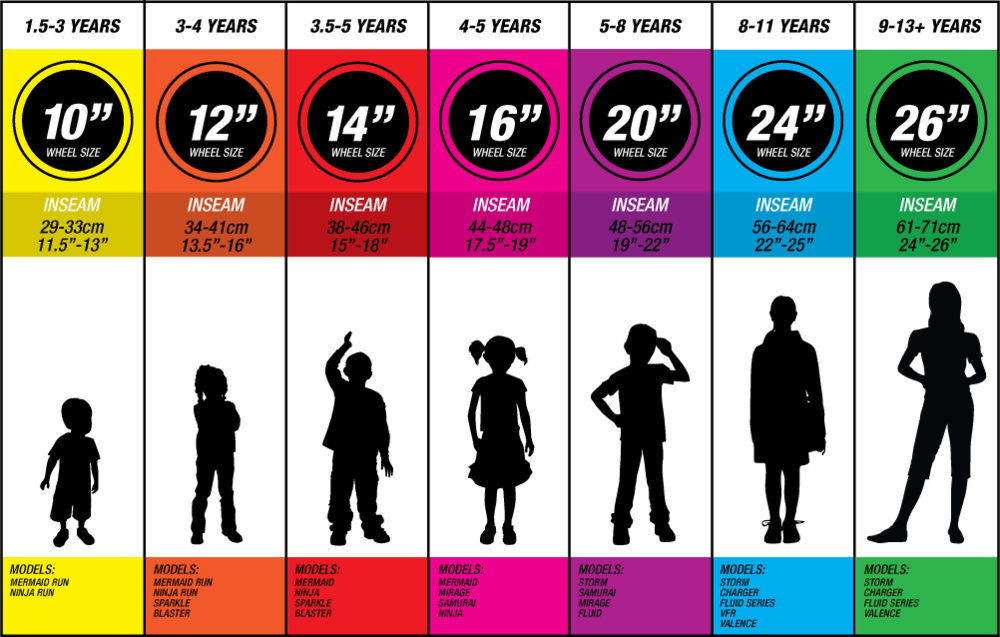 Another factor in sizing your kid is rider ability. This can add a bit of a grey area to kids' bike sizing but it is an important factor to consider. A kid with a more advanced skill set and who is more comfortable  on a bike can ride a slightly lage bike (there are advantages to this) while a cautious rider will need a smaller bike to feel comfortable and to continue to advance their skills.
Let's find the right size 
Step 1
Lets measure the kid's inseam and compare it to the chart above to determine wheel size. 
To measure your kids inseam. They should have their shoes on, stand against the wall, with their feet slightly apart. Place a hardbound book between their legs and slide it up (book spine to the ceiling) till it reaches their crotch. Then measure from the ground to the top of the book. This method is similar to how most people will measure their kids height with a book on the top of their head.
Step 2 
Take the rider's ability into consideration. If they are very cautious go with the smaller size. If they are a strong rider go with the larger size. Now you should have the proper size bike. For a more technical approach: Beginner riders should get bikes where the seat height matches their inseam (allows for flat foot when stopped. Experience riders should be 2 to 4" above their inseam. Now to find a bike that offers this "optimal seat height" while allowing for growth. 
Step 3
Now that you have a rough idea of size, have identified that their current bike is too small. Going into a bike shop and ask the professionals some questions. Get your kid to try or at the very least sit on the bike size that you identified above to double check fit. 
Why does bike quality matter?
A better quality bike gives your kid a better chance at succeeding. Higher quality bikes will have aluminium frames and aluminium wheels which reduce the weight of the overall bike. Sometimes we like to make fun of people who count grams on their bike, however it is even more important for kids' bikes because proportionally the bike is way closer to their body weight. 
Run Bike or training wheels?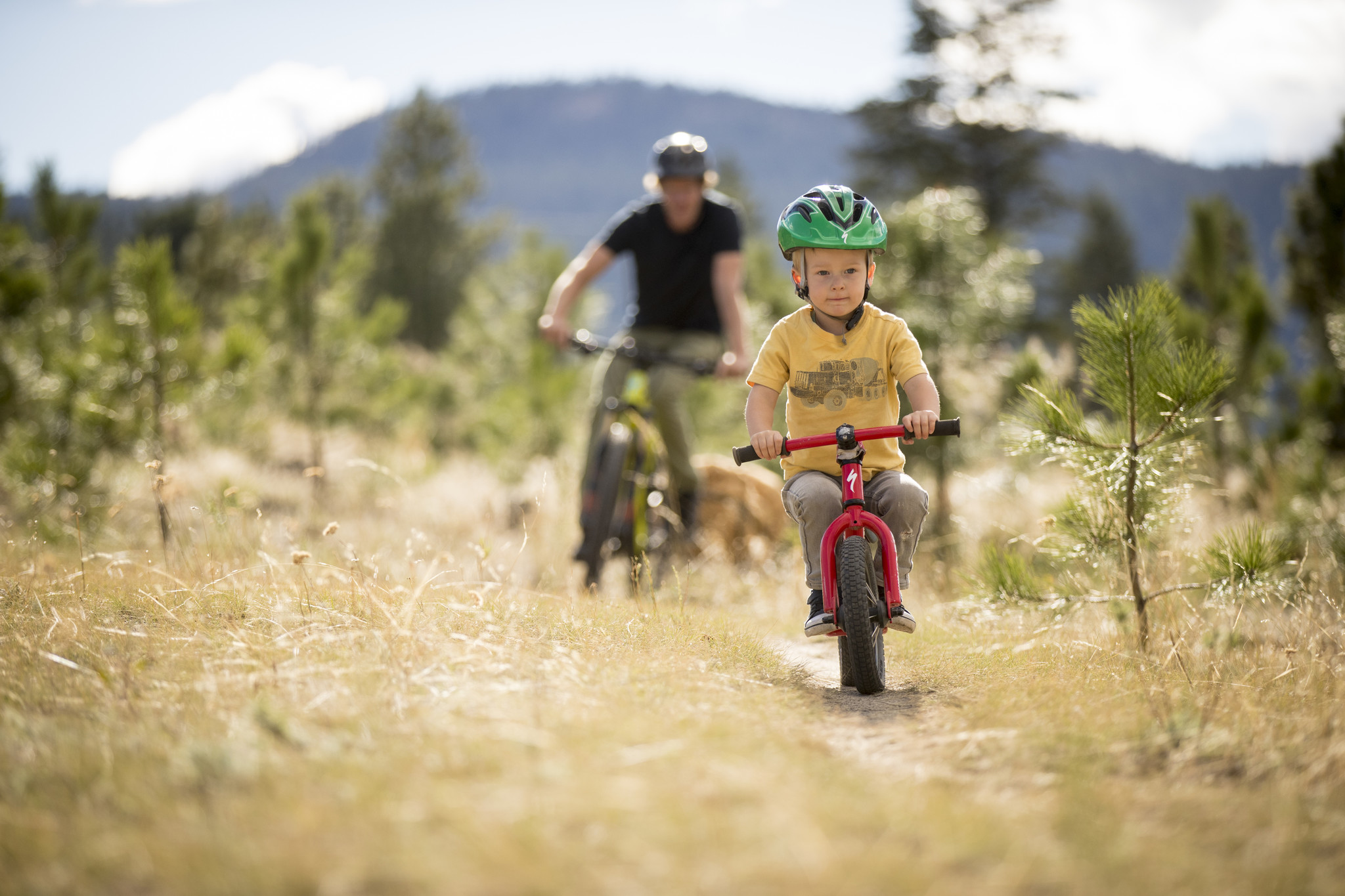 We love run bikes. They allow kids to develop exceptional balance while remaining safe and progressing at their own pace. It allows them to start at a younger age and can often put them ahead of their peers. Only downside is sometimes they have too much fun on them and it can be hard to convince them that pedals could be even better. 
Training wheels can be great too, especially for kids who are a bit older. Training wheels allow the kids to develop their motor skills when remaining safe. When using training wheels it is important that they are slightly raised off the ground (the bike should rock a little bit back and forth). To introduce progression, slowly raise them higher as your kid becomes more and more comfortable with the bike. 
What next?
At WestShore Bikes we have a great kids bike program that keeps the cost down and keeps your kids on high quality bikes. 
Lastly if you have any questions please don't hesitate to reach out. Our shop has always had a focus on kids' bikes and our staff have been selling and fitting kids' bikes more than any other type of bike. 
Email: [email protected]
Phone: 250-590-6960